SAM moto-e3:
Scroll down for english-version
- Der SAM wurde im Jahr 2021 verkauft -

Kategorie:
Dreirädriges Elektrofahrzeug, Electric vehicle, three-wheeler, Zulassung L5e
Hersteller:
Cree Ltd. (Creation Research Engineering + Ecology), Biel / CH
Typ:
SAM (Sustainable Automotive Mobility)

Hinweis: Hierbei handelt es sich um einen der originalen Prototypen der schweizer Firma Cree Ltd.
Die Modelle SAM EV II, SAM 2.5 o.ä. sind in Polen in Lizenz gefertigte Nachbauten, die nur noch äußerlich eine gewisse Ähnlichkeit mit dem Original haben.
Mittlerweile wird auch der SAM EV II bzw. SAM 2.5, nach ca. 140 verkauften Fahrzeugen, nicht mehr produziert.
Ausführung:
moto-e3, modifizierter Prototyp mit deutscher Einzelzulassung
Zweck:
Pendlerfahrzeug, Entwicklungsplattform zum Testen
von Lithium-Zellen / Elektronik / Design-Elemente, Gute-Laune-Macher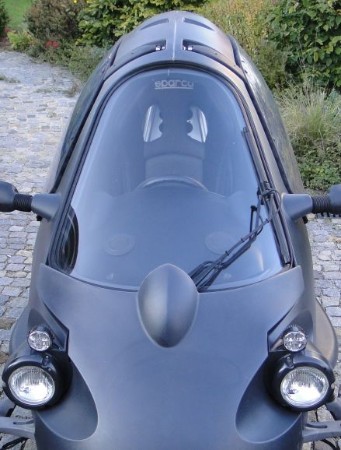 Der SAM im Sommer (beste Laune garantiert ~~~ Yeah ! )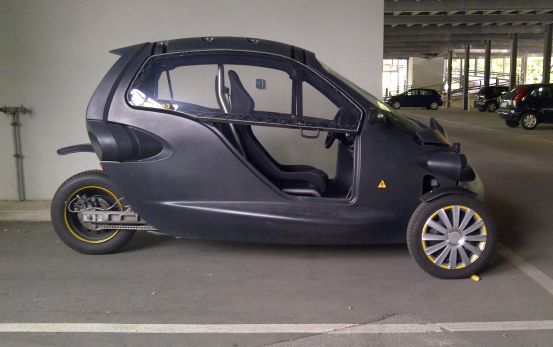 Und das steckt im zentralen Alu-Chassis:


Der SAM im Herbst: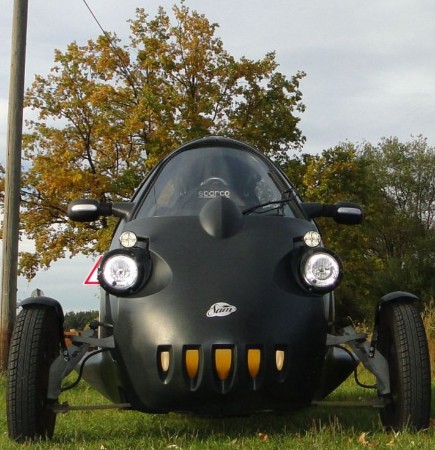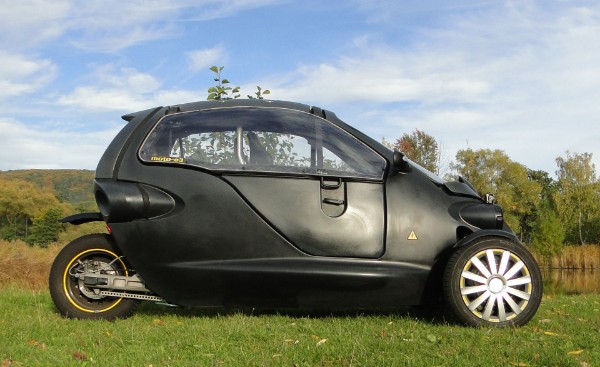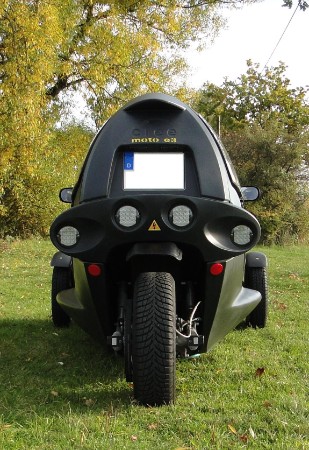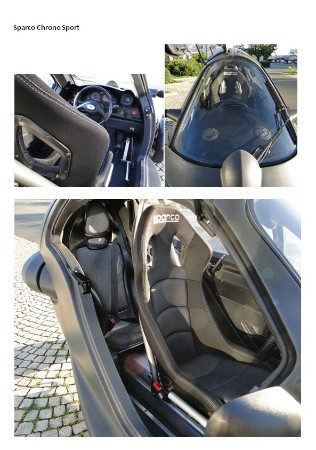 Chassis:
Aluminium, integrierte Kühlmittelkanäle sorgen für ein hocheffektives Thermomanagement.
Fahrgastzelle:
Hochdichtes Polyethylen (Rotationsschmelzverfahren, doppelwandig mit je 5 mm, durchgefärbt), Verbundglas-Frontscheibe, Seitenscheiben aus Makrolon.
Beidseitig Flügeltüren mit abnehmbaren unteren Türelementen, Seitenfenster separat zum Aufklappen bzw. ausstellbar für prima Luftaustausch.
Aufhängung:
Aluguss, Querlenker und GFK-Blattfeder mit Dämpfer vorne, Schwinge mit 2 Fournales-Stoßdämpfern (nur 1040g/Stck), 3 Scheibenbremsen.
Sitze:
2 Sitzplätze im Jet-Stil hintereinander, Rennsport-Schalensitz mit Fiberglas-Träger und Stahl-Überrollbügel vorne.
Stauraum* (bis unterkante Seitenfenster):
100 l neben dem Fahrersitz
140 l im Fond - anstatt Beifahrer
Lebensdauer:
ausgelegt auf Jahrzehnte
Motor-Daten:
PMS, Permanent Magnet Synchronmaschine, 12 Pole, 3 Phasen,
brushless, Außenläufer, Spezialanfertigung.
Leistung: limitiert auf ca. 20 kW (max. 50 kW möglich)
Drehmoment: limitiert auf ca. 105 Nm (über 200 Nm möglich)
Energierückgewinnung (Rekuperation) mit 2-10 kW
Kühlung: flüssigkeitsgekühlt
Schutzart: IP56
Gewicht: 28,5 kg
Wirkungsgrad: > 94 %
Leistungselektronik:
flüssigkeitsgekühlt,
PWM mit Mitsubishi IGBT (Intelligent Power Module PM400DSA060),
strombegrenzt auf etwa 120 A zur Schonung des Antriebes (Controller könnte über 200 kW schalten…)
Kraftübertragung:
direkt und ohne Getriebe, Untersetzung 5,54:1
Synchronriemen mit Carboninlay
Ladegerät:
Zivan NG3, umschaltbar von 5,5 A auf 13 A (sekundärseitig), vom SAM-Innenraum aus zugängliche Feinjustage von Strom und Spannung.
Wirkungsgrad*: 91-94% (CC-Phase)
Kann an jeder normalen Schuko-Steckdose dauerhaft angeschlossen werden, keine Wallbox o.ä. notwendig.

Akku:
Typ: Lithium-Ionen, LiFePO4
Setup: 180 Hochstrom-Einzelzellen, individuell selektiert nach einer spez. kombinierten Methode, 60s3p, korrosionsgeschützt, 200 V Ruhespannung, ca. 6 kWh Energieinhalt.
Crash-, vibrations- und thermisch geschützt mittels spez. Halteblöcke in einer Sandwich-Konstruktion.
Gesamtgewicht 67 kg (Akku-Pack komplett inkl. Sandwich etc.)
Akku-Monitoring:
Cockpit-Display
Microcontroller / Hall-Sensor zur Berechnung bzw. Anzeige von
SoC, Ampere (+/-), Watt (+/-), Volt, Temperatur, kWh, etc.
12-Kanal Unterspannungsüberwachung mit Hysterese
Höchstgeschwindigkeit*:
limitiert auf ca. 105 km/h
Beschleunigung*:
linear und richtig "spritzig" trotz Strombegrenzug bis 30 km/h (zur Schonung des Antriebes)
0-50 km/h in 5 s
0-60 km/h in 6 s
0-80 km/h in 11 s
0-100 km/h in 17 s
40-60 km/h in 3 s
40-80 km/h in 6 s

Energieverbrauch*:
ca. 7,5 kWh / 100 km (gemessen ab Steckdose)

Gewicht*:
fahrfertig: 465 kg (mit 6 kWh Akkupack)
Zul. Gesamt-Gewicht: 695 kg
Felgen / Reifen:
3,5x15 mit 135/70-15 vorne
5,5x15 mit 175/65-15 hinten
Heizung:
elektrische Gebläseheizung, 550 W aus Fahrstromakku
Gewichtsverteilung*:
vorne/hinten: 58/42 %
Länge x Breite x Höhe [m]*:
3,15 x 1,60 x 1,52
Spurweite vorne*:
1,49 m
Radstand:
2,40 m
Bodenfreiheit*:
12 cm
Sonstiges:
Interaktive Rekuperation
Multifunktionaler Range-Extender mit ca. 2kWh (kompatibel mit z.B. Toyota Prius)
Diagnosebox
Was er nicht hat, nicht braucht…oder weniger ist mehr:
Audio, Airbags, ASR, ESP, ABS, Klima, Servolenkung, Bremskraftverstärker, …
* Messwerte


*******************************
English-Version:

Three-wheeled electric car, Electric vehicle, three-wheeler
Manufacturer:
Cree Ltd.. (Creation Research Engineering + Ecology), Biel / CH
Type:
SAM (Sustainable Automotive Mobility)

Note: This is one of the original prototypes of the Swiss company Cree Ltd.
The SAM II EV models, SAM 2.5 or similar are produced under license in Poland which only have a certain superficial resemblance to the original.
Meanwhile these series have been DA'ed.
Edition:
moto-e3, modified prototype, street legal
Purpose:
Commuter vehicle, my private development platform in order to test
Lithium-cells / electronic-parts / design-elements

Chassis:
Aluminum, integrated coolant channels to provide a highly effective thermal management.
Passenger compartment:
High Density Polyethylene (rotational molding, double wall with 5 mm, dyed), laminated windscreen, side windows made ​​of Makrolon.
Wing doors on both sides with removable lower door elements, side windows separately to open.
Suspension:
Cast aluminum arm (rear) and fiberglass leaf spring in the front, 3 disc brakes.
Seats:
2 (or 2.5) of seats in the Jet-style row, racing-seat with fiberglass carrier and steel roll bar.
Storage space (up to lower edge of the window)*:
100 l of the driver's seat
140 liters in the rear - instead of passenger
Lifetime:
designed for decades
Motor data:
PMS, permanent magnet synchronous machine, 12 pole, 3 phase,
brushless, outrunner, custom-made.
Power: limited to 20 kW (50 kW max possible)
Torque: limited to about 105 Nm (200 Nm possible)
Regenerative braking with 2-10 kW
Cooling: Liquid cooled
IP56
Weight: 28.5 kg
Efficiency:> 94%
Propulsion-Electronics:
liquid cooled,
Mitsubishi IGBT with PWM (Intelligent Power Module PM400DSA060)
current limited to about 120 A in order to protect the drive (controller could switch over ... 200 kW)
Transmission:
directly and without gears, reduction 5,54:1
Synchronous Timing belt with carbon inlay
Charger:
Zivan NG3, switchable from 5.5 A to 13 A (secondary), the SAM interior. Accessible from inside the SAM in order to adjust current and voltage
Efficiency*: 91-94% (C-phase)
Battery:
Type: Li-ion, LiFePO4
Setup: 180 High-current single cells individually selected according to a special combined method, 60s3p corrosion protected, 200 V open circuit voltage, about 6 kWh capacity.
Crash, vibration and thermally protected by special holding-blocks in a sandwich construction.
Total weight 67 kg (battery pack complete with sandwich, etc.)
Battery monitoring:
Cockpit display
Microcontroller / Hall sensor to calculate and display
SoC, amps (+ / -), W (+ / -), volts, temperature, kWh, etc.
12-channel undervoltage monitoring with hysteresis
Top Speed:
limited to about 105 km/h*
Acceleration*:
linear and quick despite current-limitation up to 30 km/h (to protect the drive-train)
0-50 km/h in 5s
0-60 km/h in 6s
0-80 km/h in 10s
40-60 km/h in 3s
40-80 km/h in 6s

Energy-consumption*:
7,5 kWh / 100 km
equal to 280 mpg
Conversions used:

1 litre = 0.264172052 US gallons
1 US gallon = 3.78541178 litres
1 kilometer = 0.621371192 miles
1 mile = 1.609344 kilometers

Weight*:
curb weight: 465 kg (with 6 kWh battery pack)
Perm. Total weight: 695 kg
Wheels / tires:
3,5 x15 with 135/70-15 front
5,5 x15 with 175/65-15 rear
Heating:
electric fan heater, 550 W from track power battery
Weight distribution*:
front / rear: 58/42%
Length x width x height [m] *:
3.15 x 1.52 x 1.60
Track Front*:
1.49 m
Wheelbase:
2.40 m
Ground clearance*:
12 cm
Misc.:
Interactive regeneration
Multifunctional Range Extender with 2kWh (compatible with Toyota Prius Gen III)
Diagnostic Box
What he does not have, does not need ... because less is sometimes more:
Audio, airbags, ASR, ESP, ABS, power steering, power brakes, ...
* Measurements

Keywords: Elektroauto, Elektrofahrzeug, Twizzy, Leaf, Tesla, i-Miev, Rak-e, nils, urban concept, future car challenge, I-Road, michael bauer, electric vehicle, threewheeler, i-Road, Land glider,